| | |
| --- | --- |
| Posted by Eccleston George Team on March 18, 2014 at 10:30 AM | |
It's been 11 years since our first tentative steps into the world of creative education. In 2003 our Nige was commissioned by the Island 2000 Trust to work with three schools on the Isle of Wight as part of a project called Landscape Reflections. After that project, with myriad of commissions coming from visitor attractions across the UK, it was to be another three years before we delivered our next project in a school. Since 2006 though we've worked with over fifty schools across the south of the UK and over that time we've worked with thousands of students from preschool right through to third year University. Our introduction to creative education all those years ago had a profound impact on us, it changed our working practice and the direction in which we wanted to go....in short it changed our lives. So it seems fairly remarkable that in all time we've never worked with our own local secondary school, either in its current form as Sandown Bay Academy or in it's previous life as Sandown High School even though it's walking distance from our studio! A few months ago we made the decision to put that right and we're pleased to say that we're currently working with Sandown Bay Academy on not one but two projects.
Both projects have Eccleston George team members working with sixth form groups from the school. The first project is an interior design community art project working with the school's 'Event Management' students and the second project sees us working with the six form 'Animal Management' student group.
Above: Lily from 'Event Management' six form group with the crew tee shirt students designed and made.
Our own Darren Brazer and Cam Snudden are working with the Event Management group on, what is for us, a brand new kind of school project. Cam and Darren are using their amazing computerised vinyl cutting machine to help the students to decorate one of the school's reception areas. The sixth form students have followed our advice and delivered a series of 'in school' community consultation events in order to gather ideas from students of all ages from across the school. Ideas and designs collected from the school community have then been shortlisted by the sixth formers and now the winning designs will be made into giant vinyl decals that will adorn the walls in the school. To get the project rolling, our two man team worked with the student group to design and make 'crew T shirts' for the project. Each student worked with Cam and Darren to work up T shirt designs on special computer software. Then they took the students through a process that not only showed how to use the computerised vinyl cutting machine but also how the machinery all works. Our boys will be working with Sandown Bay Academy over the next six weeks or so.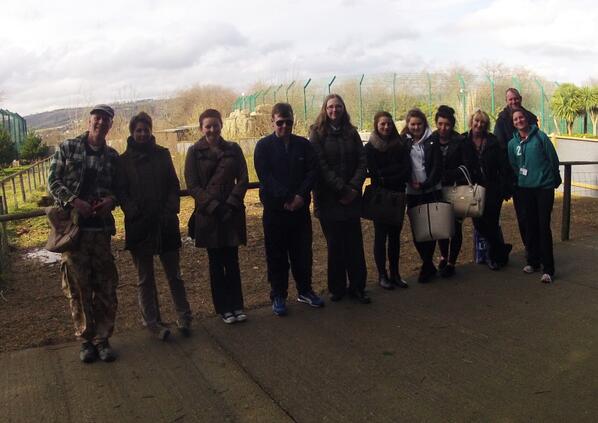 Above: Students from the sixth form 'Animal Management' group on a site visit at the Isle of Wight Zoo.
The second of our projects with Sandown Bay Academy takes the form of another 'real life' project, this time working in partnership with the Isle of Wight Zoo. The schools Animal Management six formers have joined us to help design and build the zoo's 'New for 2014' exhibit. The students are in the process of designing a complex and innovative 'walk through' enclosure that will give visitors the chance to meet the zoo's population of Meerkats. Our own team is working closely with the students to guide  them through the entire creative process of imagining, researching, designing and building the new zoo exhibit. Once completed it's thought the project will be a European first both in terms of the novel nature of the exhibit and the way it will have been developed in collaboration with a local school.
So it's our hope now that we're starting to make up for the lack of attention we've paid to our local secondary school and that through these projects we'll all be able to show how important it can be for schools to work with creative practitioners and local businesses.
These two projects are funded quite differently - Cam and Darren's interior design project is funded directly by the academy itself. After students worked out business plans and budgets they pitched the idea to the head teacher and school governors and the project was given the green light.
The zoo project is an entirely different kind of project that costs the school nothing at all. To find out more click here!